Laos
Continued community transmission cause for concern.
Inbound Travel
Restricted
Policy Summary
Lockdown Status
Districts in Laos divided into colour coded zones until 15 Sep. Red zones are areas with 1 or more cases where contact tracing is not possible, yellow zones where contact tracing is possible, and green zones for COVID-free areas. In red zones, residents may only leave their homes for essential purposes. For green zones, restaurants are open for dine-in. Travel between Vientiane and other provinces permitted without 14-day quarantine for those fully vaccinated. MICE is limited to less than 20 pax, tourist sites in areas of community spread must close, and entertainment sites must also remain closed
Travel Restrictions
International scheduled and chartered flights are suspended. Fast-track immigration started with China on 1 Nov. All travellers entering the country must purchase travel insurance, wear health tracking device.
Containment Policies Timeline
How to read this graph

International Travel Restrictions

0 - no restrictions
1 - screening arrivals
2 - quarantine arrivals from some or all regions
3 - ban arrivals from some regions
4 - ban on all regions or total border closure

Internal Movement Restrictions

0 - no restrictions
1 - recommend not to travel between regions/cities
2 - internal movement restrictions in place

Stay At Home Requirements

0 - no measures
1 - recommend not leaving house
2 - require not leaving house with exceptions for daily exercise, grocery shopping, and 'essential' trips
3 - require not leaving house with minimal exceptions (eg allowed to leave once a week, or only one person can leave at a time, etc)

School Closures

0 - no measures
1 - recommend closing
2 - require closing (only some levels or categories, eg just high school, or just public schools)
3 - require closing all levels
Economy Summary
Fiscal support for the tourism industry
Tax deferral for 3 months from Apr (3 Apr)
GDP Growth Rate
% per year
Inflation Rate
% per year
Tourism Arrivals Summary
International Tourism Arrivals
YoY % change
📋 About This Page
Travel impact dashboard is an easy-to-read resource to stay informed on the impact of COVID-19 on the travel industry. Get the latest travel news and analysis on Southeast Asia tourism.
For travel professionals who need regular updates on their source markets. Know when to start marketing for inbound and outbound tourism.
---
✉️ Stay Updated With Weekly Updates
Sign up to receive weekly updated news for each country directly to your inbox. Keep informed and make the right decisions.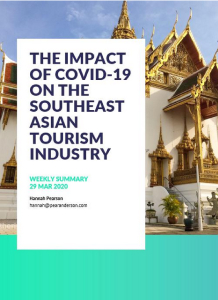 Click here to receive weekly updates »
🌏 Coronavirus Impact Summary
The content is a general description of informative nature only and is accurate at time of publication. Pear Anderson assumes no responsibility for completeness, errors or omissions in the information and makes no warranty as to the accuracy, completeness or suitability of the information. This collection of content is created by Pear Anderson and various sources credited on the page.