Thailand
39 Chinese visitors arrive into Thailand under the STV on 20 Oct, all COVID-free.
Outbound Travel
Restricted
Policy Summary
Lockdown Status
All businesses reopened, including hotels, exhibition centres. Interprovincial travel allowed. Schools fully opened, limits on shopping mall operation hours lifted. Pubs, bars and karaoke have to close by 12am.
Travel Restrictions
Certain non-Thai passengers allowed entry, including: medical tourists, filming crews, Thailand Elite card members, foreigners who have work permits, foreigners married to Thai nationals, foreigners studying at educational institutions, Special Tourist Visa holders, foreign athletes who will participate in the Tour of Thailand 2020 bike race, Thai Airways pilots and cabin crew, holders of non-immigrant types of visa, long-stay tourist visa, holders of the APEC Business Travel Card from low-risk countries.
Containment Policies Timeline
How to read this graph
International Travel Restrictions
0 - no restrictions
1 - screening arrivals
2 - quarantine arrivals from some or all regions
3 - ban arrivals from some regions
4 - ban on all regions or total border closure
Internal Movement Restrictions
0 - no restrictions
1 - recommend not to travel between regions/cities
2 - internal movement restrictions in place
Stay At Home Requirements
0 - no measures
1 - recommend not leaving house
2 - require not leaving house with exceptions for daily exercise, grocery shopping, and 'essential' trips
3 - require not leaving house with minimal exceptions (eg allowed to leave once a week, or only one person can leave at a time, etc)
School Closures
0 - no measures
1 - recommend closing
2 - require closing (only some levels or categories, eg just high school, or just public schools)
3 - require closing all levels
Economy Summary
Fiscal support for the tourism industry
Domestic tourism subsidy (17 Jun):
The domestic tourism stimulus packages worth 22.4 billion THB has been approved, including:
2.4 billion THB fund for 1.2 million health volunteers and hospital officials which will subsidise 2,000 THB for a trip of at least 2D1N and must be booked via tour firms, expected to help 13,000 tour firms

18 billion THB fund for 5 million nights at hotel accommodation at 40% of normal room rates (subsidy limited to 3,000 THB/ night up to 5 nights). Other services, such as food, are capped at 600 THB/ room/ night, and must be outside of the traveller's home province

2 billion THB fund to subsidise domestic flight fares, inter-provincial bus fares and car rental fees for 2 million people. It will pay up to 40% of expenses, limited to 1,000 THB/ tourist
Phase 3 budget (7 Apr):
500 billion THB in funding for commercial banks to lend to SMEs at low interest rates

5,000 THB monthly handouts for temporary, contract and self-employed workers for 6 months
Phase 2 budget (24 Mar):
Loans of up to 3 million THB for SMEs at 3% interest rate

Extensions on corporate tax filings

Workers covered under SSF program to receive increased unemployment compensation of 50% of their salary
Phase 1 budget (4 Mar):
Soft loans from Government Savings Banks with lowered interest rates

Deduction of salary cost (300% of eligible salary costs from Apr - Jul 2020) with certain conditions

Electricity payments extended for certain tourism businesses
GDP Growth Rate
% per year
Inflation Rate
% per year
Consumer Trends Summary
Booking.com Thai customers' international travel wishlist (Mar/ Apr 2020):
Tokyo, Seoul, Osaka, Singapore, Ubud-Bali, London, Kuala Lumpur, Taipei, Paris and Danang.
Consumer Sentiment
Tourism Arrivals Summary
International Tourism Arrivals
YoY % change
📋 About This Page
Travel impact dashboard is an easy-to-read resource to stay informed on the impact of COVID-19 on the travel industry. Get the latest travel news and analysis on Southeast Asia tourism.
For travel professionals who need regular updates on their source markets. Know when to start marketing for inbound and outbound tourism.
---
✉️ Stay Updated With Weekly Updates
Sign up to receive weekly updated news for each country directly to your inbox. Keep informed and make the right decisions.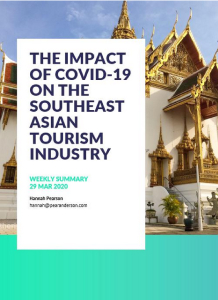 Click here to receive weekly updates »
🌏 Coronavirus Impact Summary
The content is a general description of informative nature only and is accurate at time of publication. Pear Anderson assumes no responsibility for completeness, errors or omissions in the information and makes no warranty as to the accuracy, completeness or suitability of the information. This collection of content is created by Pear Anderson and various sources credited on the page.